Benefits Of Doing SEM Campaigns
Most websites go unnoticed as they get demoted to the bottom of millions of search results through Google. You can get your website found and promoted to the top of the list utilizing Search Engine Marketing (SEM). Showing up in users search not only adds credibility, generates website traffic, and increases conversions, but also gives your brand the recognition that it deserves.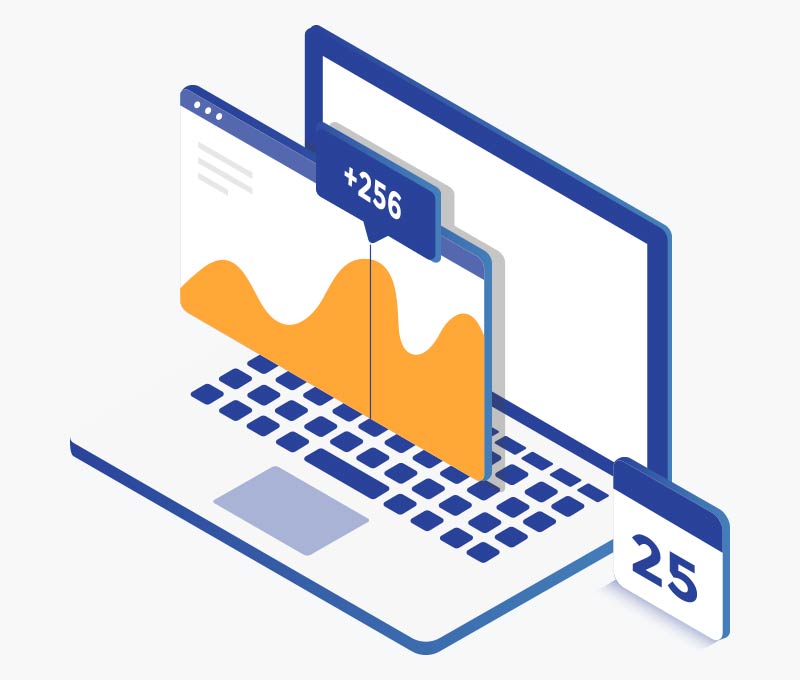 Organic SEO (Including Google MyBusiness & Map listings)
SEO Strategy
We mainly do on-site SEO optimization and Google reacts to on-site SEO improvements within 1-2 weeks to increase natural/organic rankings.
White Hat SEO
We only apply legitimate, white hat SEO techniques to optimize your website to rank it on the First Page of Google's search results and on other major search engines for your target keywords.
The bottom line is a very effective search engine strategy at a very reasonable cost with regular progress reporting.
This is a highly effective program which will give you significant returns on what is a relatively low cost investment compared to other advertising mediums.
Strategy Continued
We do SEO work throughout the site to get the right keyword dominance and density in each part of the site and pages, with the right HTML code and format. We then perform specific off-site SEO actions such as Google Maps/Places inclusion, DMOZ, YouTube, Yelp, directory submissions, etc. to reinforce the on-site SEO with search engines reacting within 2-3 months.
After the Initial 6 Months
We will review our success and we will know the level of competition you have and then pick a budget moving forward;
approximately $125 to $200 per month . This is completely optional.
If you choose to continue, we will maintain your rankings and further improve and broaden your exposure on Google and the other search engines.
This is the most effective marketing that you can do at such a low cost.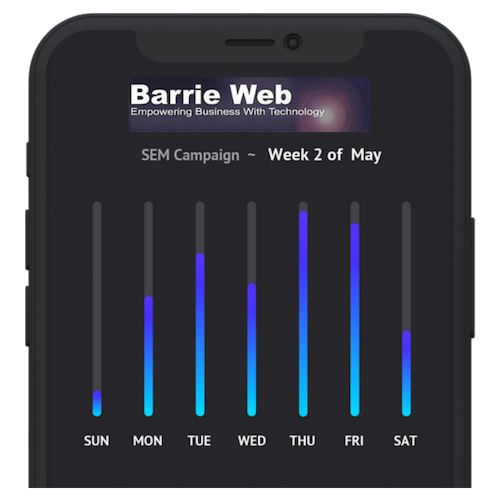 Measure Your Visits
You begin with the current position of your business in the online marketplace, followed by monthly analytical reports that demonstrate your growth and results in your rankings. The best part about SEO is that your Return on Investment (ROI) is simple to track, so you know exactly where your budget is allocated.
Google (Pay Per Click SEO) Adwords Management
During the first month we spend a lot of time with the set up and daily tweaking of your ads to get you the best exposure for the lowest cost, hence the higher first month cost. Your daily click cost budget is up to you.
Results
"OK, GOOGLE – CALL BARRIE WEB"
55% of marketers say blog content creation is their top inbound marketing priority. (2018) 
43% of B2B marketers say blogging is their most important type of content. (2017)
47% of buyers viewed 3-5 pieces of content before engaging with a sales rep. (2016)
97% of marketers are using prescriptive content, or content that outlines a formula for success. (2016)
Organic Search Engine Optimization allows businesses to increase conversions, inquire qualified leads and generate traffic for a reasonably low cost.
Let us help you setup and implement the best strategy for your business to build your brand, increase visibility, generate leads, and advertise to a larger community.
Google Adwords is an online advertising platform created by Google where businesses & advertisers pay to display brief advertisements.
Having a website gives you credibility, generates sales, drives engagement, and increases brand recognition.